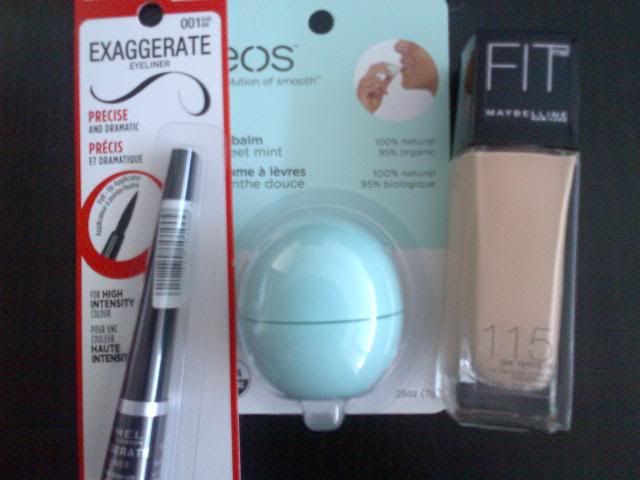 Rimmel London Exaggerate Eyeliner
I've reviewed this product before, but I thought that I would let you know again that THIS IS THE BEST LIQUID EYELINER EVER! Great applicator and formula. I've bought this product over and over again.
EOS Lip Balm in Mint
In the past I've said that Soft Lips is the only chapstick that I would ever buy again. Well, that was dumb, because EOS is a far superior product. In just two days my lips have become so much softer and there is significantly less flakeyness. Flakeyness? Yeah. The packaging is a bit odd, but it's doesn't make it difficult to apply. It also smells...and tastes amazing. I have to stop myself from licking it off. So minty!!
FIT Maybelline Foundation
I'm not very happy with this purchase. While it does match my skin tone...I'm very pale and it's hard to find one light enough... it looks very shiny, it's not full coverage, and it settles into fine lines. Maybe with primer and finishing powder it would be ok, but I don't have either of those so I can't comment.
Have you tried these products? What did you think?
FACEBOOK | LOOKBOOK | INSTAGRAM | YOUTUBE | BLOG LOVIN'